Louisville Cabinets & Countertops, LLC
6200 Hitt Lane
Louisville, KY 40241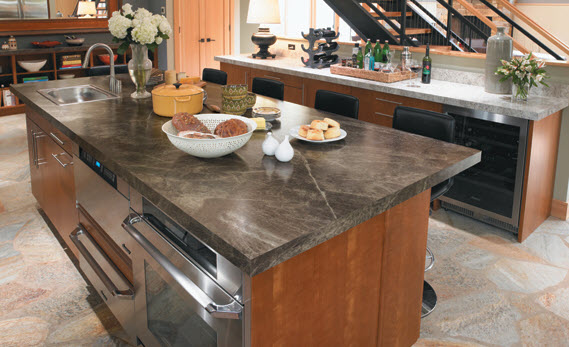 The Pros and Cons of 
a 
Laminate
 Countertops
I wanted a new, attractive kitchen countertop that would serve my family well without costing a fortune. After doing some research and talking to the experts, I settled on laminate countertops and couldn't be happier with my choice – and the price! 
Let's take a closer look at the pros and cons of laminate countertops based on my research: 
Pros
Affordable option

: 

Compared to granite, stone, wood, 

and

 marble countertops, laminate countertops are 

genuinely inexpensive

. So

 economical, in fact, that you can

 afford to change

 them out

 if they get damaged or you tire of 

a

 design. 

Their

 affordability makes

 laminate countertops

 a

n excellent option if you're

 remodeling on a tight budget

. 

 

Loads of design o

ptions

:

 

A

s

 

Architectural Digest

 demonstrates,

 y

ou can get laminate countert

ops in 

a wide selection of delightful

 colors, shapes, and sizes.

 

Chameleon

: 

Why blow your entire budget on 

pricey

 countertops 

when you can spend less

 for the same look

? You can get a laminate countertop in a design that mirrors granite, stone, wood, or marble countertops. It

 might not

 be as 

durable

 as the

 more expensive

 options, b

ut it look

s just

 as good.

 

Easy to i

nstall

: 

L

aminate 

countertops are

 lightweight, 

which makes them easy to install. You can install 

them 

yourself

, saving you even more money.

 

 
Check out this video for a comparison of the various types of countertops, including laminate. 
Cons
Not Permanent

:

 A

ccording to 

House Logic

, a

 top-

quality laminate countertop can 

last for 10 to 20 years

,

 if properly maintained. But 

if they get used heavily, they typically don't last that long. It might be inexpensive to replace, but you do have the chore of replacing them when they get damaged.

 

Easy to damage

:

 Unlike granite and ma

rble countertops,

 

l

aminate counters scratch 

easily. They also 

are 

vulnerable to heat, which can cause 

melting or 

burns

, so you must be careful

. 

 

Low resale value

: 

According to 

The Spr

uce

, laminate counter

s have the lowest resale value

 of any countertop

 and 

add 

virtually

 no market 

value t

o

 your

 home

.

 
If you're looking for an attractive and affordable option for your kitchen countertops, the pros of laminate far outweigh the cons. Give us a call today for more information and to determine whether a laminate countertop is right for you! 
Laminate Countertops – Economical, Versatile Beauty
Affordable, easy to care for and available in a wide variety of colors, it's easy to find the perfect laminate countertop to match your lifestyle and taste.
Keeps its beauty without a lot of maintenance.
Cleans with mild soap and water.
Resists stains, abrasions and moisture.
Complements virtually any kitchen decor with over 250 colors and patterns.
Reflects your personal style and accents your kitchen with a variety of decorative edges.
Makes changing your kitchen style every few years affordable.
Laminate countertops are the most popular countertops on the market today. Laminate is made up of several layers of synthetic material, including Kraft paper that is used in making paper bags. Laminate is such a versatile material that it is used for much more than countertops. Bowling alleys have replaced wood for laminate. Boat interiors are lined with laminate.
Laminate countertops come in more colors, patterns and finishes than any other type of countertop. No matter how unique your decor is you can find laminate countertops to match. Choose your laminate countertop from over 250 dazzling colors and patterns from Wilsonart and Formica. Laminate countertops in Louisville has the most Wilsonart and Formica laminate sheets to choose for your kitchen and bath counter tops.
Below are just a few samples. Give me a call and let me show you how to make your countertops beautiful
Copyright 2018 Louisville Cabinets & Countertops